Find A Fun Gift For The Woman Who Has Everything
You know the song "Girls Just Want To Have Fun" by Cyndi Lauper (bet it's running through your head now), well it's true. We love to have fun!
Any of these fun gifts will say you understand what she likes, her passions and her quirks. Some of what we have listed are wildly extravagant, while others are more suitable as an extra gift. All price ranges are covered. These will make wonderful gifts for her birthday, anniversary, Christmas, or any special occasion. No matter what your budget you can find a fun gift for her here.
These are all personally picked gifts. Enjoy the experience!
West Coast Wardrobe Nothing Else Matters Beanie in Metallic
Metallic
Reindeer Games Jumpsuit by Tipsy Elves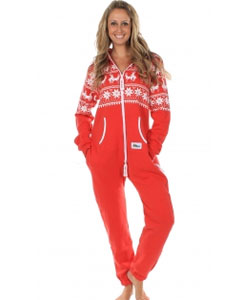 Finally, after years of technological advances; the perfect garment. Jumpsuits are warm, functional and simple , just step in, zip up, pull the hood over your head and voila! This particular jumpsuit features a special brand of erotic reindeer games in white on a red background. The pockets, zipper and hood are also accented with white piping.
Néo Bourgeoisie Metal Lace and Embroidery Bangle
Brass and Crystal. French design.
Savannah Gloves - LEOPARD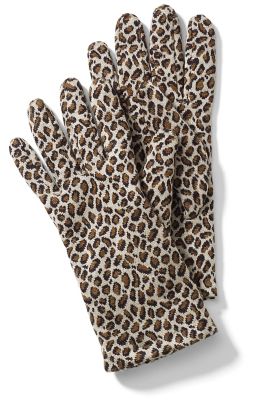 Chic is at your fingertips in these fabulously fierce leopard print gloves, fashioned in soft jersey knit, fully lined and featuring a layer of Thinsulate™ thermal insulation to keep hands perfectly comfortable. Wear them with everything, since leopard is a neutral, as everyone knows. A gift every stylish woman would adore.
The Manicurist's Gel Nail Polish Kit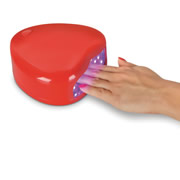 This is the nail polish kit that creates a high-gloss, no-chip gel manicure without a trip to the nail salon. The UV-curable gel manicure is easily applied following the simple step-by-step instructions. For prepping nails, the kit includes a 2 oz. bottle of gel polish remover that won't dry or damage nails, a 2 oz. bottle of cleanser, and a nail file for shaping. For salon-quality results, a 1/2-oz. bottle of bonder primes nails for strong polish adhesion, a 1/2-oz. bottle of red gel polish adds brilliant color, and a 1/2-oz. bottle of topcoat seals the polish. Finally, a 4-watt lamp with 24 ultraviolet LEDs cures the gel in just 45 seconds to a stunning, chip-proof gloss that typically lasts up to two weeks. Includes enough supplies for up to 10 applications.
Shoe Shaped Nail Polish Holder
Mesh shoe keeps polish bottles and other manicure tools organized and handy. Crafted in metal and accented with an acrylic jewel, it's cute displayed on dresser or vanity. Toe area holds bottle you're currently using. Polish and accessories not included.
3D Lips iPad Air
3D Lips iPad Air crafted in form fitting silicone features the iconic pink and red lips with button cord and camera cutouts. Signature box included.
Pink Multicolor Fabric Perforated and Eco-Leather Ninja Wedge Sneaker
Pink Multicolor Ninja Wedge Sneaker crafted in mesh fabric and rubberized eco-leather are hot-off-the-runway bold and ready for your serious sports luxe attitude. Featuring green polka-dot mesh with rubberized eco-leather upper lace-op closure and wave rubber and polyurethane sole that measures approximately 20mm/ 1''. Signature box included.
Yoda Slippers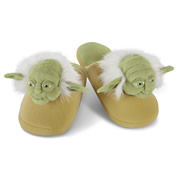 These are the Yoda slippers that help their wearer wisely admonish those vying for the morning paper on chilly mornings: "when the length of the driveway you have walked, a first read of the sports section you may have." Keeping toes as warm as wampa fur during a Hoth winter, the open-back scuffs wrap the foot in cozy, heat-trapping polyester plush while still being easy to slip on and off. Comfortable enough to wear all day around the house or swamp, they ensure that the warmth will be with you.
Soft Kitty Pajama Bottoms
There's something about pajamas that is just warm and cuddly... like a kitten! They feature the smiling face and splayed out body of Soft Kitty with bits of lyrics floating around on grey cotton. Product Specifications Soft Kitty pajama bottoms Officially-licensed Big Bang Theory apparel Elasticized waist with drawstring Materials: 100% cotton
La Mer Collections Venice Double Chain Wrap Watch in Black
Details: Extra-long soft black leather strap topped with a second layer of black gold studded leather with multiple stainless steel chains attached directly to both sides of watch case and buckle. Wipe clean. 22" long, .5" wide strap and .25" top layer on strap, 14K Gold Plated Square Watch Case, .875" wide Watch case, Japanese Movement, buckle closure. Nickel Free. Due to the handcrafted nature of this product, each watch may vary slightly. Made in the USA.
Heated Hand Cozy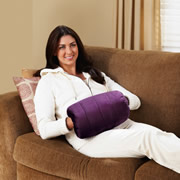 This is the soft, soothing hand warmer that keeps fingers warm and cozy while watching TV or lounging. An unobtrusive battery-powered heating element within the plush muff's interior delivers up to six hours of gentle heat to help ease the stress and aches associated with chilly weather. The microplush polyester shell is filled with soft polystyrene foam beads for a comfortable and relaxing feel. Easy operation with an on/off switch that stays hidden in a zippered pocket.
Black Kitty Clutch
Black Kitty Clutch is crafted in glossy Perspex® is the cat's meow of box clutches. Featuring cat-face detail with Swarovski® element eyes magnetic closure round hinged handle that can be hidden internally signature stamped hinge and decorative chain support. Made in Italy. Signature dust bag included.
Heather Gardner Vagabond Antler Necklace in Sterling Silver
Materials: Rooster Feathers, Elk Antler Tip, Sterling Silver Chain Detail: Mixed Layers of Rooster Feathers With Single Elk Antler Tip and Sterling Silver Chain Size: 32
Pencil Box Leggings
Exclusive! Pencils. Guaranteed to raise a smile! Cheery, color pencils highlight these fun-to-wear leggings—an ideal combination of comfort and fit. Elasticized waist.
Peacock Feather Bra
Eyes on Her! Peacock feathers—real, reclaimed ones!—wink their "eyes" from this sensational top! Padded cups; adjustable, removable elastic straps. Poly/cotton.
I'M A FAN! Box Clutch
I'M A FAN! Box Clutch is sure to add whimsical fun to her day or evening look. Featuring fan framed design with color inlay and cutouts magnetic closure signature stamped hinge and decorative chain support. Signature box and dust bag included.Made in Italy.
Peacock Head Wrap
Exclusive! Presto! Add this touch of the exotic-instantly! Glorious, colorfully printed head wrap is gathered by a 1?"-long brooch of faceted crystal and glittering rhinestones. Wear the folds wide or narrow! 100% polyester. Hand washable. Imported. Covered, elasticized back band stretches to fit.
Elizabeth 3 Murano Glass Necklace w/Heart Pendant
Elizabeth 3 Murano Glass Necklace is part of the Evergreen Heritage collection. Featuring a heart made of glass accented with a pure silver leaf arrow as a symbol of love with cable chain and lobster clasp. Each piece is unique. Signature box included.
Phone in Astrology Reading
Is she curious about her relationships at home or at work? Allow an approved astrologer to address the strengths, weaknesses and dynamics of her romantic, personal and professional relationships through personal astrology readings. These ancient teachings have provided insight into individuals lives for centuries.
Le Pompon Convertible Rabbit Necklace/Ring
Le Pompon Convertible Rabbit Necklace/Ring by N2 is a tribute to the fuzzy winter coats that protect the little animals of the forest. Crafted in lacquered brass chain with signature tag fuzzy soft rabbit pendant that converts to a ring in resin attached with lobster clasp. French design.
Natalie B. Queen's Veil Anklet in Silver
Silver Floral Mesh with Adjustable Toe Ring 8 Inch Length with 3 Inch Extender
Kiss Me Necklace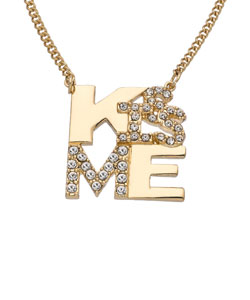 The word is spelled out with clear crystals in gold plated settings on a slinky chain. It's perfect for her fun and flirty nature!
Love Moschino Red Eco Leather Twins and Circus Print Small Bag
Eco-Leather. Signature dust bag included.
Voodoo/THE EX Pen Set with Holder designed by Raffaele Iannello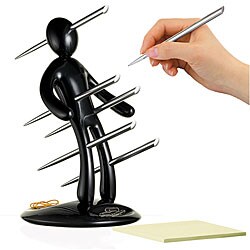 Like the famous Ex knife holder, this cathartic addition to your desk stores pens in a unique fashion
The Ex pen holder comes complete with six custom-made aluminum pens
This pen holder set was designed by Raffaele Iannello
Product measure 6 inches x 6 inches x 11 inches
Bridge to Nowhere Bungee Jump
Cloud Nine Living
Imagine standing on the edge of a bridge with steep canyon walls rising above you. Looking down at the raging water ten stories below, your palms begin to sweat, your throat becomes dry and your heart beats so hard you feel it through your chest. This is Bungee Jumping.
Critter Cat Dial Watch
Chic kitty kitty! The Critter Cat Watch from Marc by Marc Jacobs adds a touch of whimsy to her ensemble. The face is cleverly designed to resemble a cat featuring buckle leather band goldtone bezel with cat ears. Water resistant up to 5ATM. Genuine Marc by Marc Jacobs.
I Look Fabulous Party Girl Wine Glass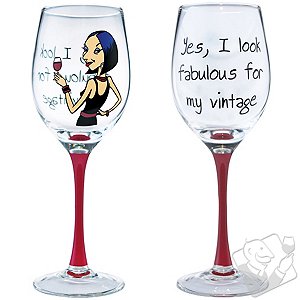 The official wine glass of colorful characters! Pairing your penchant for fun with your love of wine this sassy sipper is fired onto a lead-free crystal bowl along with the phrase: 'Yes I look fabulous for my vintage.' Long red stem. Mouth-blown. Hand wash. Mouth-blown Lead-free Glass 1 Glass
3 Day Wine Tasting Kayak Tour
Experience an unforgettable three day adventure with sublime paddling, wildlife viewing, eating gourmet meals and award winning Northwest wine tasting.
Women's Martini Socks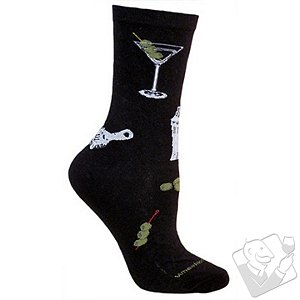 Stocking stuffers for lovers of the shaken and stirred. 75% cotton/20% nylon. Machine washable. Quality crafted in the USA. Black.
iPad Leather Easel, BLACK
Our leather iPad easel gives you easy carry and storage, comfortable use, and well designed protection for peace of mind. Slide the iPad into the plush lined inner flap. The fitted leather top and elasticized corners hold your tablet securely in place, while the leather-detailed base lets you choose from 3 horizontal angles for hands-free viewing, or a vertical position for viewing your iPad like a book. A leather strap snaps the easel closed to secure your iPad for storage or travel. Made from fine Argentine leather, this cleverly designed case is handsome and lightweight and fits easily into your backpack, purse, or brief. Nylon lining.
Swarovski Earphones, Silvernight
Listen to your music in style with these sleek, fashionable earphones. The back of each earpiece is embellished with a Silvernight crystal. Compatible with any standard MP3 player, smartphone, or computer, they offer high sound quality and, with two extra sets of rubber ear tips, a secure and comfortable fit too.
The Women's Call Me Gloves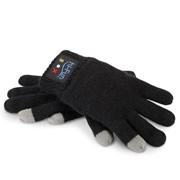 These touchscreen winter gloves allow the wearer to wirelessly conduct cell phone calls by assuming the universal "call me" gesture. With a speaker inside the left thumb and a microphone inside the left pinkie, wearers simply hold the thumb to the ear and the pinkie to the mouth for convenient "two-digit" calling. The gloves pair wirelessly with a cell phone via Bluetooth technology and provide clear sound even 39' from the phone. Buttons on the left cuff, easily maneuvered while wearing the right glove, answer or disconnect a call. To ensure users don't have to choose between connectivity and warmth, conductive fibers woven into both thumbs and index fingers allow easy operation of a touchscreen while the gloves remain on.
Bath caddy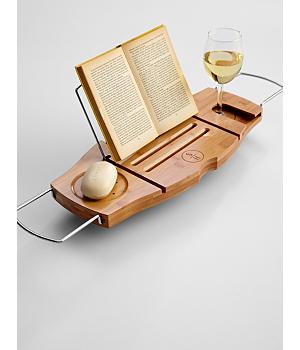 There's not much that can improve upon a relaxing soak in the tub, unless it's the addition of this delightful bath caddy. Ready to hold a good book, a candle and perhaps a glass of wine, create the ultimate spa experience with a gift that begs your lucky recipient to sit back, relax and have some me time.
Appliqued Fingerless Gloves
Hand(i)work. Crafted at the Top of the World! These soft, fabulous, fingerless gloves accentuate your gestures with colorful cutwork and rich, appliquéd embroidery. 100% cotton. Made in Nepal. Color: Black/Multi. One size fits all.
I'd Love This
Monthly Dinner and a Movie Club

Gift!
Amazing Clubs
The Dinner & Movie of the Month Club is a gourmet gift she'll appreciate, and anticipate, month after month! Every month they deliver a delicious Italian-themed dinner including a premium pasta and specialty sauce. Then, to top it off, they include a Blockbuster gift card good for a free movie rental and a selection of gourmet popcorn to enjoy with the show! Their gourmet dinners will serve 2-4 people (depending on appetite) and each new delivery will also include an informative newsletter with recipe ideas created specifically for that month's meal. They offer 3, 6, and 12-month clubs and a Dinner & Movie of the Season Club with new selections each spring, summer, fall and winter.
It's a unique anniversary or wedding gift too!
You won't find a more fun, or more convenient, gift anywhere and the dinner and a movie experience is only available here! A fun gift that keeps on giving!
Show Me More!
Actress Gift Basket
Actress Gift Basket is the perfect gift for the lady who is a Hollywood fan or is into acting. Basket includes movie set equipment replicas, wearable, and adorable accessories. Clapboard made of durable wood can be written on to be used for home-made movies, and the metal film can is great for decorative storage for office desks or elsewhere. Let someone feel like a starlet with this gift basket meant for someone special. One size fits all baseball cap embroidered 'ACTRESS.' 100% cotton black t-shirt with 'ACTRESS' printed on left chest. Clapboard photo keychain holds 2" x 2" photo. Measures 2.5"W x 3"H Small Director's Clapboard with moving slate and chalkboard surface. Measures 8"W x 7"H License plate is printed 'ACTRESS'. Measures 6"H x 12"W Mini Film Can. Tin is silver in color. Measures 7" Dia. & 1.75"D Small wooden rectangular basket. Measures 12"W x 9"D x 7.5"H
Skull and Crossbones Flats
Glow in the Dark. Pirate skulls and crossbones grin in the daylight and glow at night, adding an air of adventure to these sleek, "plunder-anywhere" flats! Black bows top the round toes.
Panda Island Satin Pouch
Panda Island Satin Pouch part of the Shanghai Express Collection is crafted in white satin with leather details depicting the face of a sweet panda that is sure to win hearts. Featuring embroidery and applique with crystal eye detail panda face top zip closure with signature spider web tab 'Island' platform base and gold tone hardware detail. Signature box and dust bag included. Made in Italy.
Leopard Print Handbag Mug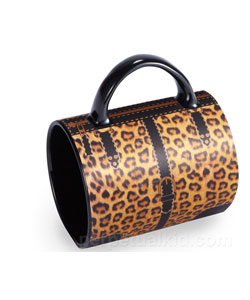 This stylishly-printed mug is perfect for the purse and coffee lover who has everything! Turn the mug on its side and it looks like a really cute handbag!
Ceramic. Dishwasher safe.
Little Black Dress Jewelry Organizer
Hanging double-sided polyester dress-shaped organizer features one side with 24 Velcro® tabs to hold necklaces, pendants, scarves, headbands, belts, etc.; and the other side with 39 clear plastic pockets for earrings, pins, bracelets, watches, hair clips, etc. No more searching through drawers or jewelry boxes--everything is visible and accessible.
Weightless Flight
Your heart beats a little faster in anticipation for the plane's first arc...the countdown begins...5...4...3...2...1... "Welcome to zero gravity" says the pilot...Slowly you feel your legs and arms start floating up. Then your entire body follows and you can't help the fact you're smiling like a little kid. You are completely and totally weightless experiencing zero gravity. You work your way over to the front of the plane and then push off to fly through the cabin like Superman. Regaining control you pick-up a water bottle and give it a squeeze. The liquid balls up and dances towards your face but you're laughing so hard it's hard for you to catch it in your mouth.When your flight lands - you're still all smiles as you tell the stories of flipping, turning and floating around in Zero-G.Truly incredible.
Bottle Babe Wine Cover Leopard
Slip a fancy sleeve over her bottle of wine (or liquor) and turn it into a fashionista.
USB Heart, Indian Siam
Trendy and innovative, this funky accessory is both a necklace and a USB key! Hanging on a stainless steel chain, the red silicon heart holds a heart-shaped USB key embellished in 54 Indian Siam crystals. For the perfect romantic gift, why not save a special message or photo on the 4GB USB key?
Laptop Skin (High Gloss Finish) - Black Lace Flower
You can get these skin for other devices too!
This skin will protect her devices with style. Manufactured in the USA, these skins feature full-color digitally printed artwork on adhesive-backed vinyl that applies with no bubbles and can be removed without leaving any messy residue.
e.l.f. Studio Complete Set of 3 Makeup Palettes

She can become her own makeup artist with the Complete Set of 3 Makeup Palettes! These convenient and complete makeup collections for your eyes, lips and face al
Bat Collared Corset
She Can Go Batty! Goths-Vamps-Steampunks: We all love the look of bold, black leather! Flex-boned for lift and support, this sensational, cinch-silhouetted corset has a bat-scalloped, detachable collar/strap design well worth dangling for. Hook/eye back closures. 100% polyester.
Bling Strands 25 Strands 18"
Bling Strands 25 Strands 18" are the ultimate hairstyle accessory. Sparkle, Shimmer and Shine with a simple knot! A great stocking stuffer for her to wear on Christmas Day and/or New Year's Eve!
Spider Web Apron
Walk into My Kitchen. Tempting cuisine becomes even more so, served in this spidery apron! Three layers of netting have silvery, foil webs and spangles. 100% polyester. This is the only apron I would ever wear!
ASP Confetti Collection Kit - Nail Art
ASP Confetti Collection Kit is a professional acrylic glitter kit. Eight eye catching glitter/confetti colors. Easy to Use. Step by Step instructions
Couples Wine and Painting Class
Is your dating regiment stuck in a rut? Dinner? Movie? Why not experience something fun and different with a romantic wine & painting class for couples! Enjoy the calm of candles, wine, rose petals and creative expression with a romantic date night to remember. You and your date will be guided by an expert art instructor as you choose an image that is meaningful to both of you. You'll learn a variety of painting techniques such as color mixing, texture use, composition, and most importantly how to feel inspiration while you joyfully express yourselves together through art. So come relax, enjoy a bottle of wine and create a masterpiece together on a date night to remember.
Make The Kitcken More Fun!
Flirty Aprons
Their Women's Aprons are perfect to help today's woman accomplish her daily activities while keeping her clothes clean. But more than that these aprons have style, and make her feel beautiful. They offer vintage apron designs, classic sexy aprons in pink or floral patterned feminine aprons.
Black Friday Sale! 50% Off + Free Shipping with code BLACKFLIRTY50 - through 12/3 - Shop Flirty Aprons & Save!
Motorcycle School (yep women love to ride too!)
Cloud Nine Living
A professional training staff guide her to new levels of riding that she never thought were attainable. During this one day school she will learn all the basic skills necessary to ride on the track in the safest and most fun way possible.
Private Dance Lessons
Cloud Nine Living
Dancing encompasses so many essential elements of life from freedom and passion, to creativity and more! Embrace those musical moments and dance with confidence, style and a smile. With the professional guidance from our experienced dance instructors you will work on rhythm, body structure, foot placement and overall technique.
A Fun Fashion Statement
Tattoo Sales
Does she long to have a tattoo but doesn't link needles - or doesn't really know which type of tattoo she wants so steers away from a permanent tattoo? Temporary Tattoos
offer thousands of temporary tattoos that are completely safe, non-toxic and hypoallergenic.They feature a wide array of temporary tattoos including Marvel, Ed Hardy, Glitter and Henna. You can purchase instock tattoos or create your own custom tattoos as gifts. They also offer a selection of bellybutton rings, What a great fun gift for her! Free shipping too!!
Show Me More!
Arabian Nights VIP Dinner
Cloud Nine Living
Staged in a 140,000 sq. ft. dinner attraction with the world's largest indoor climate-controlled equestrian arena, this mesmerizing production is an oasis in the midst of animatronics and theme parks. Arabian Nights features 65 horse stars and 30 dazzling performers and was voted Orlando's No. 1 dinner attraction. During your VIP Experience enjoy a behind-the-scenes look at Arabian Nights. Pet the horses, tour the stables, and ask questions and get autographs from the performers. The VIP Experience also provides preferential seating in the first three rows and a free beverage in the VIP reception area.
Give Her Dazzle!
BodyCandy is one of the largest sellers of Body Jewelry on the Web. Their selections include premium items such as Gold & Titanium Jewelry, as well as being an authorized seller of licensed items such as Playboy and NFL Body Jewlery and Italian Charm Bracelets.
Free Shipping Worldwide with $19.99 minimum!
Special Offer! GET 10% OFF on All Body Jewelry! Enter Coupon Code CJ10 at Check-Out- Show Me More!
HipHop Bling
Hiphopbling has been a leader in online Hip Hop Jewelry for over 5 years. They offer over 1100 unique Hiphop jewelry products including grillz, watches, dogtags, pendants, rings, bracelets, earrings and more.
Show Me More!
Check out the Ultimate Outing and Adventure Gifts for her page here!