Find A Fun Gift For The Woman Who Has Everything
Any of these personally picked gift ideas will say you understand what she likes, her passions and her quirks. Some of what we have listed are wildly extravagant, while others are more suitable as an extra gift. All price ranges are covered. These will make wonderful presents for her birthday, anniversary, Christmas, or any special occasion.
Lips Mittens in Lips - designed by Jocelyn
100% Dyed Rabbit Fur. Knit is 70% Acrylic, 30% Wool. Imported.
.10 ct. t.w. Diamond Smiley Face Emoticon Ring in 14kt Yellow Gold
We're all smiles. The digital age has made an impact on jewelry trends, resulting in this playful emoticon ring. The iconic smiley face sets a happy tone with .10 ct. t.w. diamonds. 14kt yellow gold ring.
Smiling Face Car Rear Mirrors Sticker
Bright Smiling Face Car Rear Mirrors Sticker
High Temperature Resistance Two-tone 20 Inch Long Straight 5 Clip Hairpiece Extension 11 Colors Available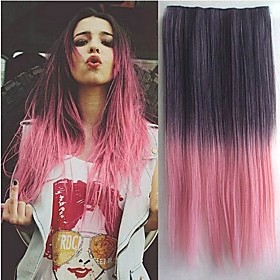 Length: 20 inch; Texture: Straight; Fiber: Synthetic; Type:Clip In/On; Key Color Tone: Multiple Colors Available
Skull Cashmere Hades Tank in Black/Buffalo
Fabric Contents: 100% Cashmere Details: Mock Neck, Sleeveless, Skull Graphic Front, Side Vents, Ribbed Trims
Delight-609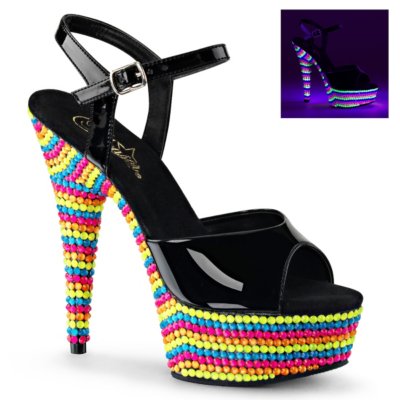 For the creative woman who loves to stand out! Heel height: 6 in. Platform: 1.75 in. Polyvinyl Side buckle closure at ankle Encrusted with neon UV reactive multi-color stones on outsole and heel
Jeweled Night Owl Bag
Garner oohs and aahs with this glamorous, artisan-crafted Mary Frances bag. Beautifully hand-beaded with faux gems, rhinestones, and sequins, this Jeweled Night Owl Bag is a shimmering, one-of-a-kind head-turner. Carry as a clutch or with the removable beaded handle. Optional brass-hued shoulder chain included. Certificate of authenticity.
FingerPaints Tie Dye Mini Nail Color Kit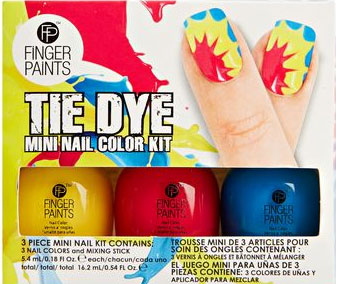 The FingerPaints Tie Dye Mini Nail Color Kit is a vibrant collection of three mini groovy shades just for her.
Fire Nymph Tie Dye Tunic
Exclusive! Arcing panels of vibrant color and needlework feathers fall across this dazzling tunic-skillfully tie-dyed in a distinctively hemmed, jersey-knit design! 100% viscose.
Peacock-Feather Bra Top
Eyes on You. Peacock feathers-real, reclaimed ones!-wink their "eyes" from this sensational top! Padded cups; adjustable, removable elastic straps. Poly/cotton.
Jacquie Aiche Sweet Leaf Clutch in Black
Materials: Snake Skin, Lambskin Details: Snakeskin Clutch, Lambskin Leather Sweet Leaf, Top Zip Closure with Long Tassel Pull
Ben Amun Statement Star Necklace in Silver
Materials: Pewter, Brass, Swarovski Crystals Details: Lobster Claw Closure
Chiara Ferragni Espadrilles Wink Glitter Canvas in Silver
Materials: Leather Lining, Natural Jute Sole Details: "Flirting" Look Leather Applique, Glitter Throughout.
Wild Gypsy Pants
Exclusive! Feeling flamboyant? Display in the wildest plumage ever! Palazzo Pants flutter with every step you take. Elasticized waist. Poly/ rayon/spandex. Made in USA. Color: Multi.
Onyx Tiara Toe Ring
Exclusive! Onyx & Silver. A tiara for the toe! Accented with genuine onyx, this antiqued, sterling silver ring adorns the foot as you stroll among your subjects.
Women's Hobo Sadie Iridescent Leather Wallet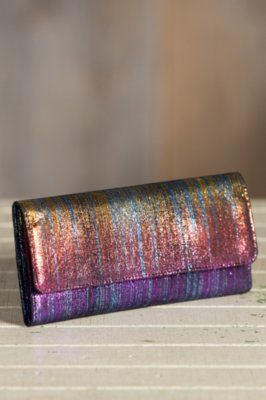 Dazzling and chic, the Sadie re-imagines the continental wallet with pizzazz. Our iridescent leather wallet is crafted in premium leather and finished with iridescent stripes, a hint of crackle surface texture, and a high shine, for a wallet everyone will envy. This radiant wallet organizes you with 7 card slots, a billfold pocket, 3 slip pockets, and an attached key chain.
Black Star Studded Ear Crawlers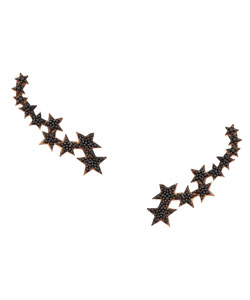 If you have never seen a shooting star, these black star studded ear crawlers by Athra should suffice. Small black stars crawl up the ear and increase in size as they work their way up. Sprinkles of black CZ stones decorate the small black stars. Such a fun and hip piece!
Too Faced Everything Nice Set
The deluxe-size Better Than Sex Mascara and 20, pigment-rich eye shadows with exclusive new shades are perfect for creating show-stopping eyes. Brush on a winter glow with the two blushes, including Papa Don't Peach and two bronzers, featuring the antioxidant-rich Chocolate Soleil Bronzer. This set includes three gold glitter, Cruelty-Free Teddy Bear Hair brushes that make perfect beauty tools for completing any look.
Lobster Pot Pie Dinner for Two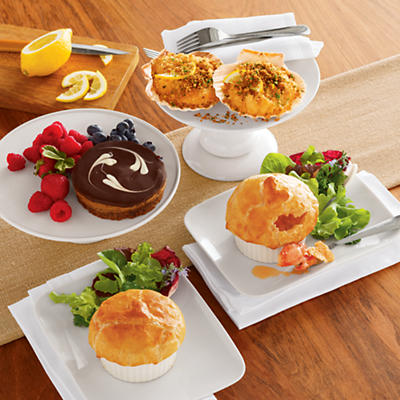 Our Lobster Dinner for Two features succulent lobster from the rocky coast of Maine splashed with a sherry cream and baked into two award-winning pot pies. Along with these comes tantalizing quattro formaggi sides of delicate crab meat, tender shell pasta, and a rich cheese sauce, all presented on a real scallop shell. Finally, to close the evening, a luscious flourless chocolate dessert remains to be shared.
Via Collection Set of Twenty-Five Tri-Colored Bangle Bracelets with Crystals.
The combinations are endless with this tri-colored set of twenty-five bangle bracelets from our Via Collection. Some sparkle with crystals, some stand out with beading, and others shimmer with texturing - mix and match to create different styles. Slip-on, goldtone, silvertone, and gunmetal-finished bracelets.
Unique Experiences For Her
Whether a VIP shopping experience, an original song, a hot air baloon ride , a dinner night cruise on a yacht, or driving a race car, and so much more, they offer the perfect gift for the woman who has everything.
They offer over 1,800 unique experiential gifts in 43 regions.
Give her a Romantic Dinner Cruise. Check them out here!
Find Her Unique Experience Gift Now!
Serpent Metal Pendant Necklace with Crystals
Serpent Metal Pendant Necklace w/Crystals crafted in gold galvanized brass with crystal detail is a statement piece that is sure to turn heads while adding stunning elegance to your evening or special occasion ensemble. Featuring etched 'snake skin' and crystal motif on entwined serpent pendant with lobster clasp closure. Made in Italy.
Collectible Stiletto Wine Glasses (Set of 3)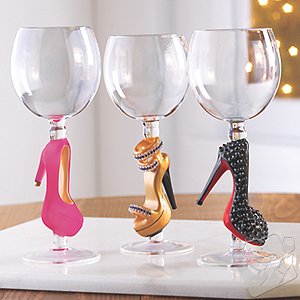 Set of 3 Glass slippers for modern Cinderellas. Born to delight theyre highly entertaining at party time or anytime and just the thing for girls night in. The bowls generously sized the stem accented with a sexy pink platformed stiletto Black and Red Stiletto and Gold sandal. Mouth-blown lead-free glass.
Amika Power Cloud Force Black Obliphica Dryer
The Power Cloud Force dryer offers professional performance, healthier styling and lasting results in a fraction of the time of other dryers.
Just Medusa Two Fingers Golden Steel Ring with Crystals
Just Medusa Two Fingers Golden Steel Ring with Crystals is a chic double ring with an edge great for stacking or alone for a subtle statement. Featuring curved snake with brilliant crystal detail. Genuine Just Cavalli.
The Manicurist's Gel Nail Polish Kit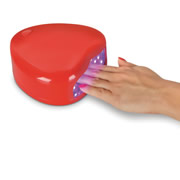 This is the nail polish kit that creates a high-gloss, no-chip gel manicure without a trip to the nail salon. The UV-curable gel manicure is easily applied following the simple step-by-step instructions. For prepping nails, the kit includes a 2 oz. bottle of gel polish remover that won't dry or damage nails, a 2 oz. bottle of cleanser, and a nail file for shaping. For salon-quality results, a 1/2-oz. bottle of bonder primes nails for strong polish adhesion, a 1/2-oz. bottle of red gel polish adds brilliant color, and a 1/2-oz. bottle of topcoat seals the polish. Finally, a 4-watt lamp with 24 ultraviolet LEDs cures the gel in just 45 seconds to a stunning, chip-proof gloss that typically lasts up to two weeks.
3D Lips iPad Air
3D Lips iPad Air crafted in form fitting silicone features the iconic pink and red lips with button cord and camera cutouts. Signature box included.
La Mer Collections Venice Double Chain Wrap Watch in Black
Details: Extra-long soft black leather strap topped with a second layer of black gold studded leather with multiple stainless steel chains attached directly to both sides of watch case and buckle. Wipe clean. 22" long, .5" wide strap and .25" top layer on strap, 14K Gold Plated Square Watch Case, .875" wide Watch case, Japanese Movement, buckle closure.
Heated Hand Cozy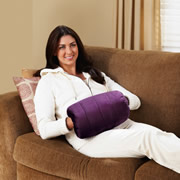 This is the soft, soothing hand warmer that keeps fingers warm and cozy while watching TV or lounging. An unobtrusive battery-powered heating element within the plush muff's interior delivers up to six hours of gentle heat to help ease the stress and aches associated with chilly weather.
Voodoo/THE EX Pen Set with Holder designed by Raffaele Iannello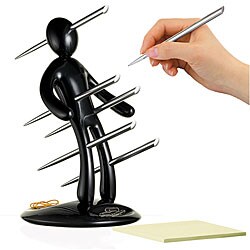 Like the famous Ex knife holder, this cathartic addition to your desk stores pens in a unique fashion
The Ex pen holder comes complete with six custom-made aluminum pens
This pen holder set was designed by Raffaele Iannello
Product measure 6 inches x 6 inches x 11 inches
Bridge to Nowhere Bungee Jump
Cloud Nine Living
Imagine standing on the edge of a bridge with steep canyon walls rising above you. Looking down at the raging water ten stories below, your palms begin to sweat, your throat becomes dry and your heart beats so hard you feel it through your chest. This is Bungee Jumping.
I Look Fabulous Party Girl Wine Glass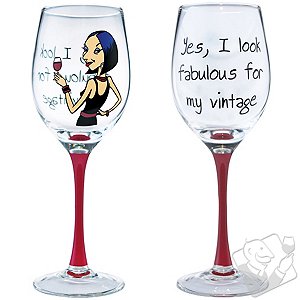 The official wine glass of colorful characters! Pairing your penchant for fun with your love of wine this sassy sipper is fired onto a lead-free crystal bowl along with the phrase: 'Yes I look fabulous for my vintage.' Long red stem. Mouth-blown. Hand wash. Mouth-blown Lead-free Glass 1 Glass
3 Day Wine Tasting Kayak Tour
Experience an unforgettable three day adventure with sublime paddling, wildlife viewing, eating gourmet meals and award winning Northwest wine tasting.
Women's Martini Socks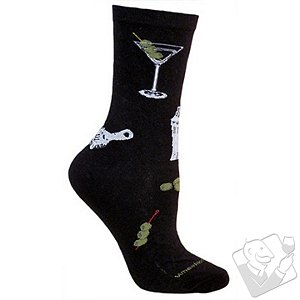 Stocking stuffers for lovers of the shaken and stirred. 75% cotton/20% nylon. Machine washable. Quality crafted in the USA. Black.
Swarovski Earphones, Silvernight
Listen to your music in style with these sleek, fashionable earphones. The back of each earpiece is embellished with a Silvernight crystal. Compatible with any standard MP3 player, smartphone, or computer, they offer high sound quality and, with two extra sets of rubber ear tips, a secure and comfortable fit too.
The Women's Call Me Gloves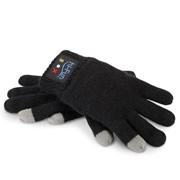 These touchscreen winter gloves allow the wearer to wirelessly conduct cell phone calls by assuming the universal "call me" gesture. With a speaker inside the left thumb and a microphone inside the left pinkie, wearers simply hold the thumb to the ear and the pinkie to the mouth for convenient "two-digit" calling. The gloves pair wirelessly with a cell phone via Bluetooth technology and provide clear sound even 39' from the phone. Buttons on the left cuff, easily maneuvered while wearing the right glove, answer or disconnect a call. To ensure users don't have to choose between connectivity and warmth, conductive fibers woven into both thumbs and index fingers allow easy operation of a touchscreen while the gloves remain on.
Bath caddy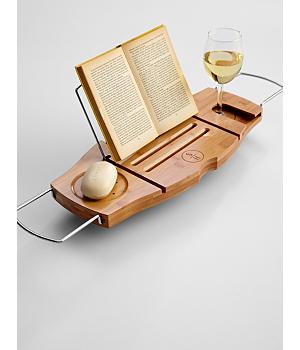 There's not much that can improve upon a relaxing soak in the tub, unless it's the addition of this delightful bath caddy. Ready to hold a good book, a candle and perhaps a glass of wine, create the ultimate spa experience with a gift that begs your lucky recipient to sit back, relax and have some me time.
I'd Love This
Monthly Dinner and a Movie Club

Gift!
Amazing Clubs
The Dinner & Movie of the Month Club is a gourmet gift she'll appreciate, and anticipate, month after month! Every month they deliver a delicious Italian-themed dinner including a premium pasta and specialty sauce. Then, to top it off, they include a Blockbuster gift card good for a free movie rental and a selection of gourmet popcorn to enjoy with the show! Their gourmet dinners will serve 2-4 people (depending on appetite) and each new delivery will also include an informative newsletter with recipe ideas created specifically for that month's meal. They offer 3, 6, and 12-month clubs and a Dinner & Movie of the Season Club with new selections each spring, summer, fall and winter.
It's a unique anniversary or wedding gift too!
You won't find a more fun, or more convenient, gift anywhere and the dinner and a movie experience is only available here! A fun gift that keeps on giving!
Show Me More!
Weightless Flight
Your heart beats a little faster in anticipation for the plane's first arc...the countdown begins...5...4...3...2...1... "Welcome to zero gravity" says the pilot...Slowly you feel your legs and arms start floating up. Then your entire body follows and you can't help the fact you're smiling like a little kid. You are completely and totally weightless experiencing zero gravity. You work your way over to the front of the plane and then push off to fly through the cabin like Superman. Regaining control you pick-up a water bottle and give it a squeeze. The liquid balls up and dances towards your face but you're laughing so hard it's hard for you to catch it in your mouth.When your flight lands - you're still all smiles as you tell the stories of flipping, turning and floating around in Zero-G.Truly incredible.
Bling Strands 25 Strands 18"
Bling Strands 25 Strands 18" are the ultimate hairstyle accessory. Sparkle, Shimmer and Shine with a simple knot! A great stocking stuffer for her to wear on Christmas Day and/or New Year's Eve!
ASP Confetti Collection Kit - Nail Art
ASP Confetti Collection Kit is a professional acrylic glitter kit. Eight eye catching glitter/confetti colors. Easy to Use. Step by Step instructions
Couples Wine and Painting Class
Is your dating regiment stuck in a rut? Dinner? Movie? Why not experience something fun and different with a romantic wine & painting class for couples! Enjoy the calm of candles, wine, rose petals and creative expression with a romantic date night to remember. You and your date will be guided by an expert art instructor as you choose an image that is meaningful to both of you. You'll learn a variety of painting techniques such as color mixing, texture use, composition, and most importantly how to feel inspiration while you joyfully express yourselves together through art. So come relax, enjoy a bottle of wine and create a masterpiece together on a date night to remember.
Motorcycle School (yep women love to ride too!)
Cloud Nine Living
A professional training staff guide her to new levels of riding that she never thought were attainable. During this one day school she will learn all the basic skills necessary to ride on the track in the safest and most fun way possible.
Private Dance Lessons
Cloud Nine Living
Dancing encompasses so many essential elements of life from freedom and passion, to creativity and more! Embrace those musical moments and dance with confidence, style and a smile. With the professional guidance from our experienced dance instructors you will work on rhythm, body structure, foot placement and overall technique.
A Fun Fashion Statement
Tattoo Sales
Does she long to have a tattoo but doesn't link needles - or doesn't really know which type of tattoo she wants so steers away from a permanent tattoo? Temporary Tattoos
offer thousands of temporary tattoos that are completely safe, non-toxic and hypoallergenic.They feature a wide array of temporary tattoos including Marvel, Ed Hardy, Glitter and Henna. You can purchase instock tattoos or create your own custom tattoos as gifts. They also offer a selection of bellybutton rings, What a great fun gift for her! Free shipping too!!
Show Me More!
Arabian Nights VIP Dinner
Cloud Nine Living
Staged in a 140,000 sq. ft. dinner attraction with the world's largest indoor climate-controlled equestrian arena, this mesmerizing production is an oasis in the midst of animatronics and theme parks. Arabian Nights features 65 horse stars and 30 dazzling performers and was voted Orlando's No. 1 dinner attraction. During your VIP Experience enjoy a behind-the-scenes look at Arabian Nights. Pet the horses, tour the stables, and ask questions and get autographs from the performers. The VIP Experience also provides preferential seating in the first three rows and a free beverage in the VIP reception area.
Give Her Dazzle!
BodyCandy is one of the largest sellers of Body Jewelry on the Web. Their selections include premium items such as Gold & Titanium Jewelry, as well as being an authorized seller of licensed items such as Playboy and NFL Body Jewlery and Italian Charm Bracelets.
Free Shipping Worldwide with $19.99 minimum!
Show Me More!
Check out the Ultimate Outing and Adventure Gifts for her page here!