Find A Beer Gift
We all know beer lovers and here you will find gift ideas such as beer clubs, specialty beers, craft beers or microbrewed beers delivered monthly, beer making kits, unique specialty beers, beer gift baskets, beer adventures, beer mugs, beer accessories, and so much more, from the best stores on the Web, for that beer lover in your life (whether a man or woman).
On a personal note, I bought a beer gift basket for my husband for his birthday a few years back and he still talks about it to this day - it's one of those great gift ideas.
I update often so do bookmark us and check back!
First Class Beer Chiller
From suave European Stouts, to crisp Canadian Lagers, and other acclaimed international favorites, this impressive beer collection will keep their attention long after the moment has passed. Also features a unique collection of twelve sweet and savory snacks to match each beer's unique character, and arrives in a polished hammered metal keepsake container. Gift Includes: Stella Artois Pilsner, Guinness Stout, Molson Canadian Pale Lager, Red Stripe Jamaican Lager, and Heineken Lager Beer. See the Wine Info Tab for a full description of beers. Krave Chili Lime Beef Jerky. Anette's Firey Microbrew Brittle. Anette's Premium Beer Brittle. Pinot Grigio Salami. Fresh Pistachios. Wasabi Peas. Toffee Peanuts. Rosemary Garlic Crispbread. Fancy Pretzels. Savory Gourmet Popcorn. Almond Roca. See the What's Inside tab for a full description of included items. Features: Krave Beef Jerky: Hand-sliced jerky with zero chemical additives such as nitrites, MSG, and corn syrup. Gluten free. As featured on ABC News, The Wall Street Journal, The New York Times, and the Huffington Post. Anette's Napa Valley Confections: With recipes handed down over the past 70 years, Anette's one-of-a-kind brittle has won numerous prestigious awards and has been featured on the Food Network and Fine Living. Items are packaged in a memorable hammered metal keepsake container.
The Beer Gift Basket
The perfect gift for the beer lover! This fantastic basket features beers from around the world, plus an appetizing selection of gourmet treats. Inside a two-tone basket the recipient will discover Bass Ale, Heineken, Guinness Extra Stout, Murphy's Irish Amber, and Dos Equis. The gift is made complete by the addition of East Shore Pretzels, Macy's Romano Garlic Cheesesticks, Crunchie Munchie Snack Mix, Crown Jewel Popcorn, and Pacific Gold Pistachios.
Craft Beer & Snacks Gift Basket
The ultimate gift for the beer lover, this large hamper holds your choice of premium beers, all well known for their premium quality and delicious taste, as well as gourmet pub grub that highlight the distinct flavor of the beers. Choose between International Beers or American IPAs. Either way your favorite beer drinker will be amazed at your good taste! Gift Includes: Your choice of beer options: International Beers or American IPAs 12oz. See the Tasting Notes Tab for a full list of included beers. Beer Chips. Ranch Corn Nuts. Roasted Almonds. Wasabi Peas. Jumbo Salted Virginia Peanuts, and more. Features: Items are packaged in a handsome picnic hamper.
The Chill Maintaining Beer Mugs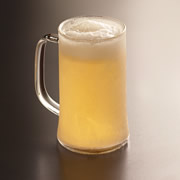 These are the beer mugs that keep beer chilled between 32\u00B0 F and 36\u00B0 F for 30 minutes. The double-walled mugs have a viscous cooling liquid between both layers that freezes after one hour in a freezer, enabling the mugs to chill a room-temperature libation to 36\u00B0 F in just 2 1/2 minutes. The mugs are made from durable, hand-blown borosilicate glass, they each hold 14 ounces, and their shapes reveal the color and carbonation of beer while maintaining a broad, foamy head. Hand wash. Set of Four.
Home Brewer's Complete Beer Kit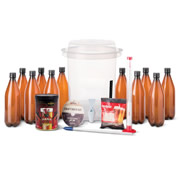 This is the kit that provides all of the tools, ingredients, and easy-to-follow instruction to make four gallons of home-brewed craft beer. The kit includes two hopped malt extracts—an India pale ale (a reddish hoppy ale) and an amber ale (caramel maltiness balanced with citrus hops)—that are combined with the included yeast and tap water in the two-gallon fermentation tank for seven days. A spout on the tank allows you to easily fill the 11 reusable 25-oz. plastic bottles, where the beer develops natural carbonation and is ready to drink in just seven days. The beer will have a 5.5% ABV (approximately) and may be bottle-conditioned for up to four months to enhance its clarity and flavor. The instruction manual guides you through the four-stage process and provides additional recipes. Includes sanitizer, two pint glasses, and a thermometer for measuring fermentation temperature.
Personalized Beer Bottle Pepper Mill
Solid turned Maine hardwood encases a Pennsylvania-made stainless steel grinding mechanism. Its beer bottle design takes it from kitchen to table with style. The mills etched label can be personalized with a name or phrase of up 22 characters (including spaces) and the year of your choice. The grinder adjusts from coarse to fine. Grinding Mechanism has a lifetime warranty. Made in USA.
Beer Afternoon Sign
Light Up Tall Flashing Beer Mug (Set of 12)
These high-quality large acrylic mugs feature multi-colored LED lights that flash continuously. This set includes 12 super-cool glasses.

NEW Beer-Flavored Cheese Box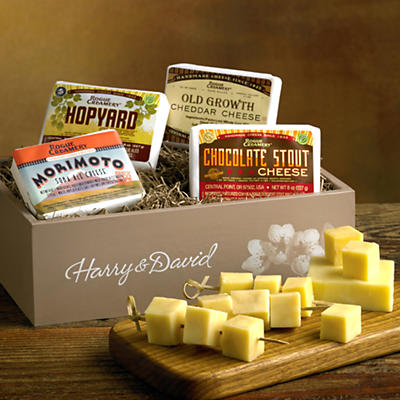 The Beer-Flavored Cheese Box is perfect for the gourmet food fan with a love of handcrafted cheese and beer. The artisans at the Rogue Creamery skillfully create the cheeses in this quartet. Each gourmet cheese incorporates a different craft beer that's been selected for the way it complements cheddar's versatile flavor. It makes for a unique and welcome gourmet food delivery.
Personalized Wooden Beer Flight
Their name elegantly engraved on the handle of this finely crafted tasting board makes for a distinctive beer connoisseur's gift that's sure to impress. Each of the four heavy 6-ounce beer glasses is specifically engineered with a slight taper to develop the beer's head, keeping more of the beer's volatiles in the glass, and improving the aroma, appearance, and overall flavor profile of each beer. The board itself features four circular inlays 1/2'' deep to prevent glasses from tipping. Its wood is finished with water-resistant coating to prevent warping and cracking. The ideal gift for weddings, anniversaries, birthdays, or just because, the five-piece set is presented in an intricately designed black gift box for an unforgettable gift presentation. Gift Includes: One Personalized Wooden Beer Tasting Board. Four 6-Ounce Tapered Beer Glasses. Features: An attractive and natural wood grain finish on the wooden base. A stylish and convenient way to entertain with samples of microbrew, seasonal favorites, homebrews, and more. Free Personalized Engraving! Enter information to be engraved using the personalization option during checkout.
The Chill Maintaining Pilsner Glasses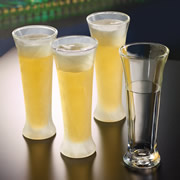 These are the pilsner glasses that keep beer chilled between 32\u00B0 F and 36\u00B0 F for 30 minutes. The double-walled glasses have a viscous cooling liquid between both layers that freezes after one hour in a freezer, enabling the glasses to chill a room-temperature libation to 36\u00B0 F in just 2 1/2 minutes. The glasses are made from durable, borosilicate glass that withstands temperature extremes of -22\u00B0 F to 482\u00B0 F, and their double-walled construction prevents hands from getting too cold. They each hold 13 ounces and their slender, Pilsner-shape reveals the color and carbonation of beer while the fluted rim maintains a broad, foamy head. Dishwasher safe. Set of Four.
The Home Brewed Root Beer Kit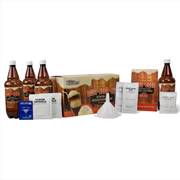 This is the kit that provides the tools, ingredients, and easy-to-follow instruction to make two gallons of creamy, old-fashioned root beer. The kit includes root beer mix that's combined with the dry yeast, flavor crystals, white and brown sugar (not included), and water in the included reusable 25-oz. plastic bottles. The instruction manual guides you through the four-stage process and the included funnel enables easy transfer from a mixing bowl to the bottles where the root beer develops natural carbonation and is ready to drink in three to four days. The root beer will have trace amounts of alcohol (approximately 0.5% ABV). Includes sanitizer, reusable bottle caps, and labels.
Personalized Brewing Co Growler and Pilsner Set
Bring that brewmaster touch to your home with the Personalized Brewing co Pilsner Glasses. Serve your favorite beers just like the Beermasters at your next gathering. Show off with your name and year personalized on each 16 oz glass and growler. Pilsner glasses Dimensions: 5- 3/4' H Top Dia: 3- 3/8' Bottom Dia: 2- 3/8' Capacity: 16 oz Growler Capacity: 64 oz. Personalize with name.
Beer Garden Gnome Lawn Ornament
Let this happy guy show everybody where the party is happening! Always ready for a good time, this hand-painted gnome holds a frosty mug and his sign points the way to the "Beer Garden". Resin.
Krups BeerTender
Fresh, pub-quality draft beer at home—DraughtKeg™ system releases CO2 each time the tap is opened, for crisp, perfectly chilled beer with the ideal head of foam. This innovative technology ensures beer remains fresh for up to 30 days. Patented system is designed to be used with Heineken®, Heineken Premium Light® and Newcastle Brown Ale® DraughtKegs. Ultra-quiet electronic cooling systems provides constant and consistent cooling of keg at the beer?s ideal drinking temperature of 37.4°F. Illuminated LED display indicates when the beer has reached its intended temperature. Features detachable draw spout and drip tray for easy cleaning. Wipe clean. Web exclusive: This product is only available online.
MR. BEER American Series Two Beer Pack
All the ingredients you need to make two new flavors of home brewed beerComes with Hopped Malt Extract, No-Rinse Cleanser, and dry brewing yeast for each flavorAll-malt varieties - different flavor and streamlined brewing processFlavors include Classic American Light and Patriot American LagerGet all the ingredients you need to try some new brews with the MR. BEER American Series Two Beer Pack. This variety pack gives you the ingredients to brew flavorful, light Classic American Light and Patriot American Lager with the MR. BEER Home Microbrewery System (sold separately). Each pack contains enough Hopped Malt Extract, No-Rinse Cleanser, and dry brewing yeast for a batch of each flavor. Both flavors are now much higher all-malt varieties, giving you improved taste and ABV, as well as a streamlined brewing process.The MR. BEER American Series Two Beer Pack features the following flavors:Classic American Light - Clean and refreshing, time-tested taste with pale straw color. Mild flavored beer thats lower in calories with a crisp, dry finish.Patriot American Lager - All occasion beer with a rich golden color, exceptionally well balanced full malt flavor, mild bitterness, and subtle hint of finishing hop aroma.
The Remote Controlled Rolling Beverage Cooler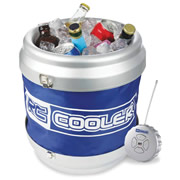 This amusing remote-controlled cooler can roll across a patio, rug, or kitchen floor to deliver a well-timed beverage to parched party guests. With room for 12 cans or bottles and ice, the cooler rolls on four sturdy underside wheels up to 40' from the host at the controls. The remote's simple controls send the cooler forward, backward, and left or right. With sides of water-resistant insulated vinyl and a secure zippered lid, beverages stay cold for hours. The cooler can be carried with the removable shoulder strap and collapses to just 6 1/2" tall for storage.
Miami Pub Crawl Tour
Come along for a fun and refreshing stroll through Coral Gables as you visit some of the area's finest pubs.Coral Gables is a pedestrian-friendly area southwest of downtown Miami. The area boasts 140 dining establishments and gourmet shops, and is home to some of the area's finest watering holes.Your guide will provide you a great local tour as you visit 4 or 5 of Coral Gable's favorite bars for beer tastings and snacks. At each establishment you'll enjoy a refreshing & unique brew, with samples ranging from Belgian or Haitian to Irish or Jamaican beers.Along the way, take in the sites and learn a bit about this area's history and culture.
Beer Mug Lights
Our Beer Mug Lights feature ten beer mug lights with frothing heads. Each string of beer lights measures 11 feet long with each mug being 12 inches apart. Each individual beer light measures 2 1/2 inches tall x 2 1/2 inches wide x 1 3/4 inches deep. Each string of beer lights has a 24 inch green AC cord. These beer lights cannot be strung end to end as each strand has one plug. Use the Beer Mug Lights to decorate any beer garden, home bar or frat house.
This Guy Needs A Beer Tee
Black tee reads: "THIS GUY NEEDS A BEER". 100% cotton.
Double Kegorator Twin Tap Beer Keg Fridge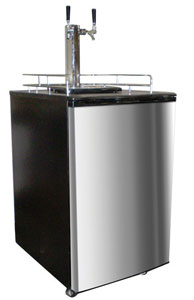 Double Kegorator Twin Tap Beer Keg Fridge Swivel casters make it mobile enough to roll around the clubhouse, pool area or anywhere you want to get the party started. The included 2.5-pound CO2 bottle is good for about four 15-gallon kegs. The fridge features a 13-inch chrome tower and guard rail, dual spring loaded top-mounted tappers and double CO2 regulators.
In-Home Beer & Artisanal Cheese
Host a customized craft beer and artisanal cheese tasting experience in the comfort of your home or a venue of your choice. Invite your friends and family for an unmatched, indulgent tasting. Your experience will begin with an introduction to brewing techniques and it will take you through the process from preparation to tasting. The goal of this private class is to not only learn how good beer can be with cheese, but to come up with some unexpected pairings that might even impress any non-beer drinkers in the party. You will have an initial consultation with a beer expert where you will determine your knowledge level, needs and tastes in order to build a two hour class with a focus tailored to you. Based on your consultation, your beer expert host will select up to six pairings in tune with your interests and take care of the rest.
Dragon Tankard
Grab hold of a dragon in full flight! It forms the handle of this collectible tankard of antiqued, polished pewter. Handcrafted in UK.
Ceramic beer mugs, 'Barley Grains' (set of 4) (Mexico)
By Mexico's Javier Servin, these ceramic beer mugs are cheerful and modern. He designs the set of four with wide bottoms and cobalt blue trim. Painted by hand, the motifs are inspired by barley grains and complemented with flowers.
The Cold Maintaining Stainless Steel Beer Steins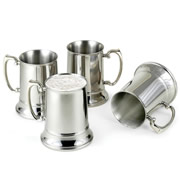 Made from 18/8 stainless steel, these are the steins that retain cold to keep beer chilled longer. The set of four steins have dual stainless steel walls that maintain the original temperature of beer longer than glass or stoneware and minimize condensation on the exterior. The mugs have the classic rounded handle and wide base that are hallmarks of the German steins found at Oktoberfest, and the stainless steel construction creates a pleasant clang when the steins meet during a toast
Extra Stout Beer Soap- Made with Extra Stout Beer
This beer soap is left unscented, but has a lovely caramel aroma naturally. Made with Guinness Extra Stout beer soap as the liquid portion of the recipe.
Personalized Man Cave Mugs - Set of Four
Set of four beer mugs Each mug holds 13 oz. Can be personalized Claim and customize your space with this eye-catching set of four Man Cave Mugs! Each unique mug features a sturdy gripping handle and holds 13 oz. Personalize mugs with up to 9 characters. Makes a great personalized gift!
Budweiser Bowtie Neon and LED Sign
Vintage class for your favorite room. Budweiser Bow Tie PIcture features retro neon and brilliant LED lights. 6-foot AC adapter. Indoor use only. 150 watts, 120 volts. Measures 36W x 20H inches.
Beer Tasting Sail
Set sail on New York's largest sailing vessel with the craft beer experts from Urban Oyster, and get introduced to the wonderful new world of Craft or Micro Beer.With over 1,500 brewers now making delicious brews all over the country, choosing and appreciating beer has become an art form to rival its cousin wine.Taste several outstanding ales and lagers paired with cheese and charcuterie while you drink in the magnificent views of the skyline of NYC.You'll sail aboard the historic Clipper City, which is an exact reconstruction of the City Clipper ships that sailed the coastal lumber trade in the U.S. during the late 1800's.This is an environmentally friendly experience, as your ship is powered by the wind with auxiliary engines fueled by an eco-friendly bio-diesel mix.What better way to spend a time on the water than taking in the legendary sites of Manhattan while sitting back and sampling beers!
Microbrewed Beer Club
With this beer club gift he will receive twelve, 12-oz. bottles of 4 different styles of beer in each monthly shipment. They will select premium hand-crafted microbrews from over 1,000 American and International microbreweries and brewpubs and ship them directly to his home each month! Their beer club makes a great gift if he appreciates lightly distributed, hard-to-find microbrewed beer.
They ship within the USA.
21st Anniversary Sale!! $10 off a 4 month shipment Use code SAVE10; $15 off a pre-paid shipment of 6 or more Use code SAVE15; and $25 off a 12 shipment order! Use code SAVE25 - Valid to Aug 31st - Shop Now!
Craft Beer Club
Every selection they make is produced by small-production, independent brewers who use only traditional brewing ingredients and time-honored brewing methods. They also embrace the hundreds of small craft brewers around the country that offer their hand-crafted beers in cans, so both bottles and cans are offered.They have beer club gifts that will fit any budget.
Give a gift from 1 to 12 months. He will receive - 12 World-Class Craft Beers 12 oz. beers; 4 different styles; 3 beers each. The finest craft ceers delivered each month direct to your him! This is a gift he will not only enjoy but he won't want to return.
They ship within the USA.
Special Offer! $10 off prepaid Gift membership of 3 months or longer additional $25 off prepaid 12 month Gift membership. Bonus Gifts included. Code: iSave10 - Shop Now!
Rare Microbrewed Beer Club
With this beer of the month club as a gift he will enjoy today's rarest, most flavorful microbrewed beers. Try a crisp, cold Honey Lager from rural Wisconsin. A full-bodied Wheat Ale from Colorado's high plains. Or a rich, extra-dark Porter from down east Maine. Every month his wine club gift includes 4 different hard-to-find domestic varieties every month-a full 12-pack of rare craft beers (3 bottles each) from all over the United States, all freshly brewed in small batches
They ship within the USA.
Special Offer! Get $10 Off a 6 Month Membership + Free Shipping from Clubs of America today! Use Coupon Code: Discount1 - Shop Here!
Beer Clubs
This is the perfect gift for any beer lover! Each month they will deliver 12 full-sized bottles of hard-to-find, specialty microbrews from award-winning, regional breweries across the country. With each shipment they include four different varieties of premium, hand-crafted beer carefully selected by their experts and brewed in limited quantities by master brewers nationwide.
These unique beers can't be found in local stores which makes it even more special. Only the best-of-the-best become selections of this beer club!
The ship within the USA.
FREE SHIPPING every month for Beer of the Month Club - Shop Now!
Unique Bar Gifts
They are a family owned entertaining super store offering so many gifts he will love.
They feature unique home bar accessories and supplies, BBQ tools, fun golf gifts, man cave gifts and so much more! Their offerings are incredible and I know you will find a unique gift for him!
The ship within the USA, Canada and internationally.
If you are having trouble finding a beer gift for your man who has everything drop me a note on live chat or if I am online you can ask me directly. You can also email me and I would happily help you find that perfect present! We are constantly updating our selection so please bookmark us and come back often!